Two-Seater Essential 3.0
Seats up to 4 people
Regular price
$2,710.00 CAD
Regular price
$3,225.00 CAD
Sale price
$2,710.00 CAD
Unit price
per
Sale
Sold out
Shipping Time: 3-5 Business Days
Features

Seats up to 4 people
Modular design that can grow with your family
Kids & Pets Friendly, spill and scratch-resistant fabric
373L of storage equivalent to 1.5 six-drawer dressers
2 Handcrafted cupholders (natural wood and marble patterns may vary)
2 Throw pillows included per seat
Stowaway tray table in each armrest
Compatible with future add-on
Dimensions

Sofa Dimension: 89" x 41"
Seat Height: 18"
Seat Width: 35.5"
Seat Depth (Two Pillows): 20"
Seat Depth (One Pillow): 24"
Armrest Storage (Per Arm): 50.5L
Armrest Storage Front (Per Arm): 10.75" x 7.25" x 8.5"
Armrest Storage Rear (Per Arm): 21.25" x 7.25" x 15.5"
Seat Storage (Per Seat): 136L
Seat Storage (Per Seat): 32.25" x 28.75" x 9"
Large Throw Pillow: 35.5" x 8" x 18"
Small Throw Pillow: 31" x 4" x 13"
Tested Weight Limit: 400 Lbs Per Seat
Materials

Solid wood frame
Engineered plywood armrest frame
Sinuous springs and webbing suspension
5" Thick multilayer high resiliency foam
Stain-resistant fabric
Natural wood and marble cupholders
Solid wood tray table
Solid wood sofa legs
Shipping & Return

Shipping

We only ship to Canadian addresses, and shipping is free.

30-Day Free Trial

You can return your product for any reason, FREE of charge. You have up to 30 days to return the product from the delivery date.

Please see our Shipping & Return Policy for details.
Warranty & Care

Warranty

We offer a ten year warranty which covers manufacturing-related structural defects, and electronic defects.

Care

Entire sofa has anti-stain treatment, spills can be cleaned up by rubbing a damp cloth gently on the spilled section.

 
Share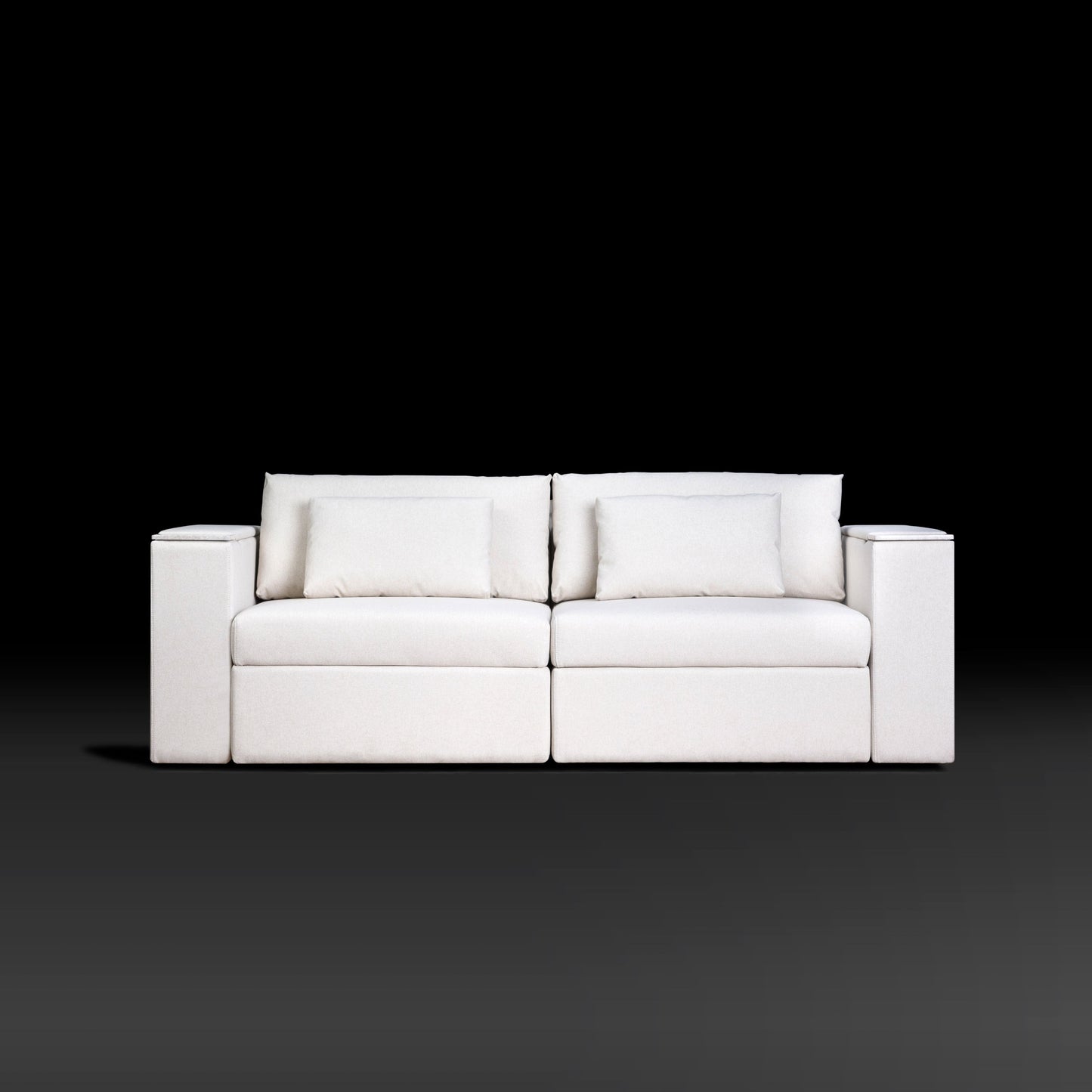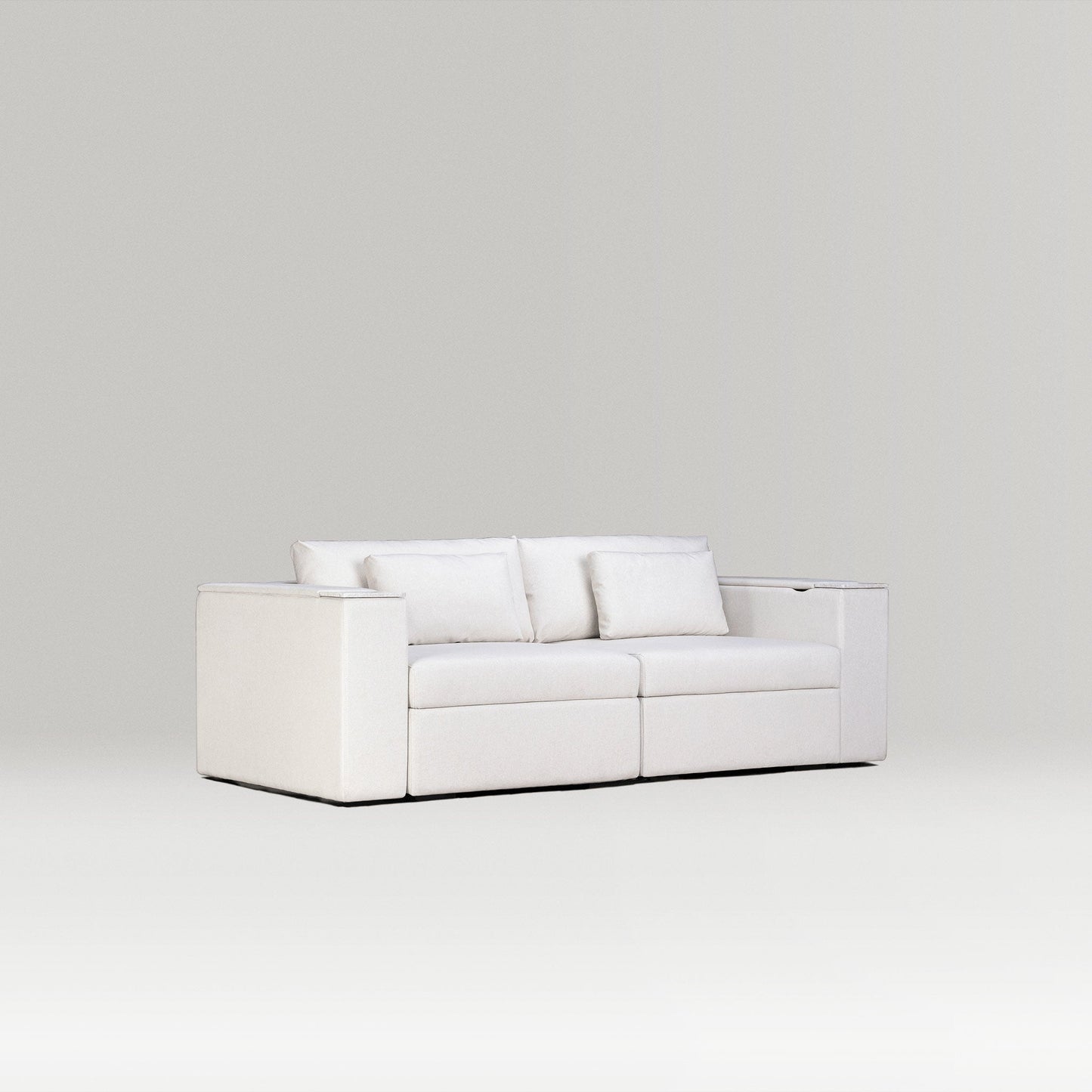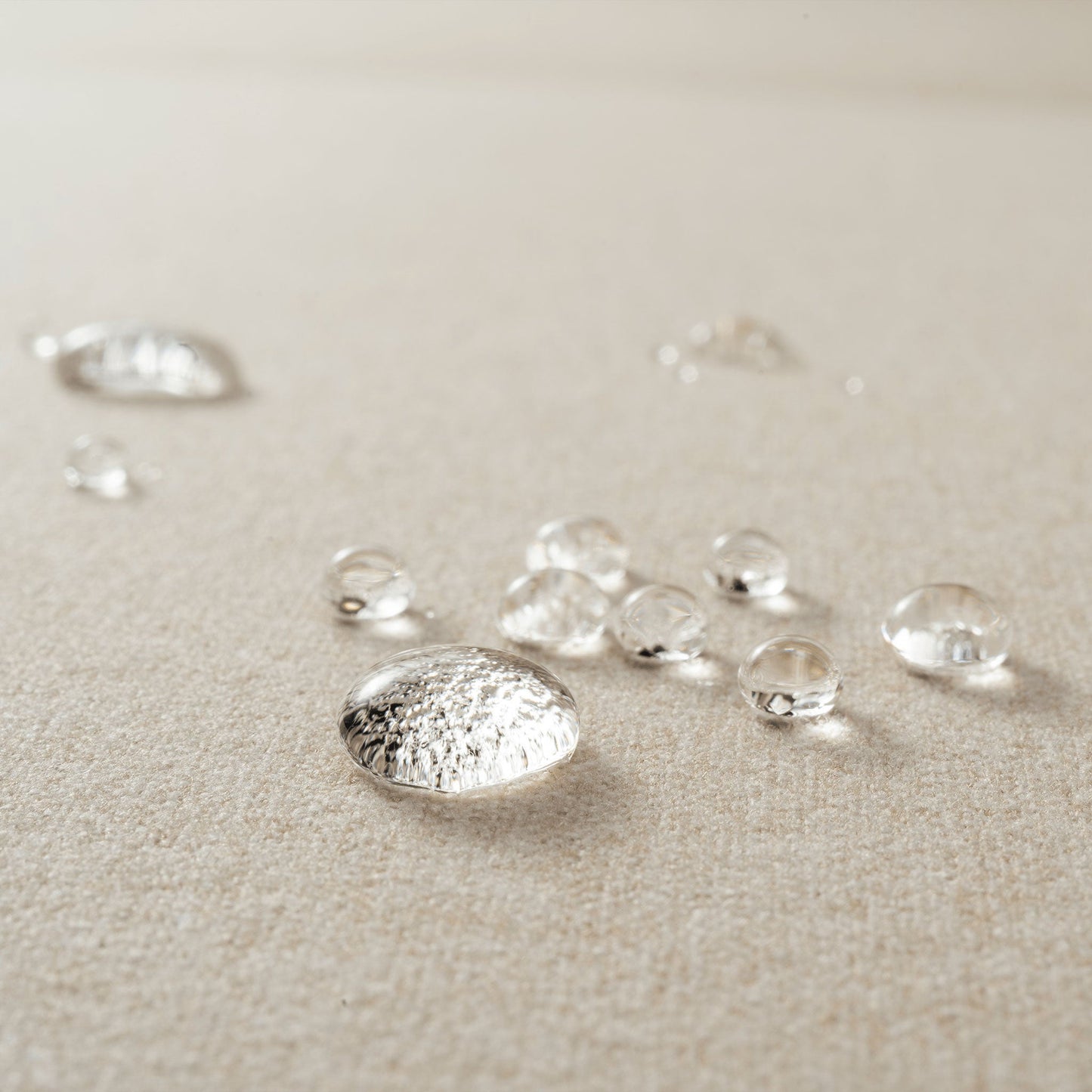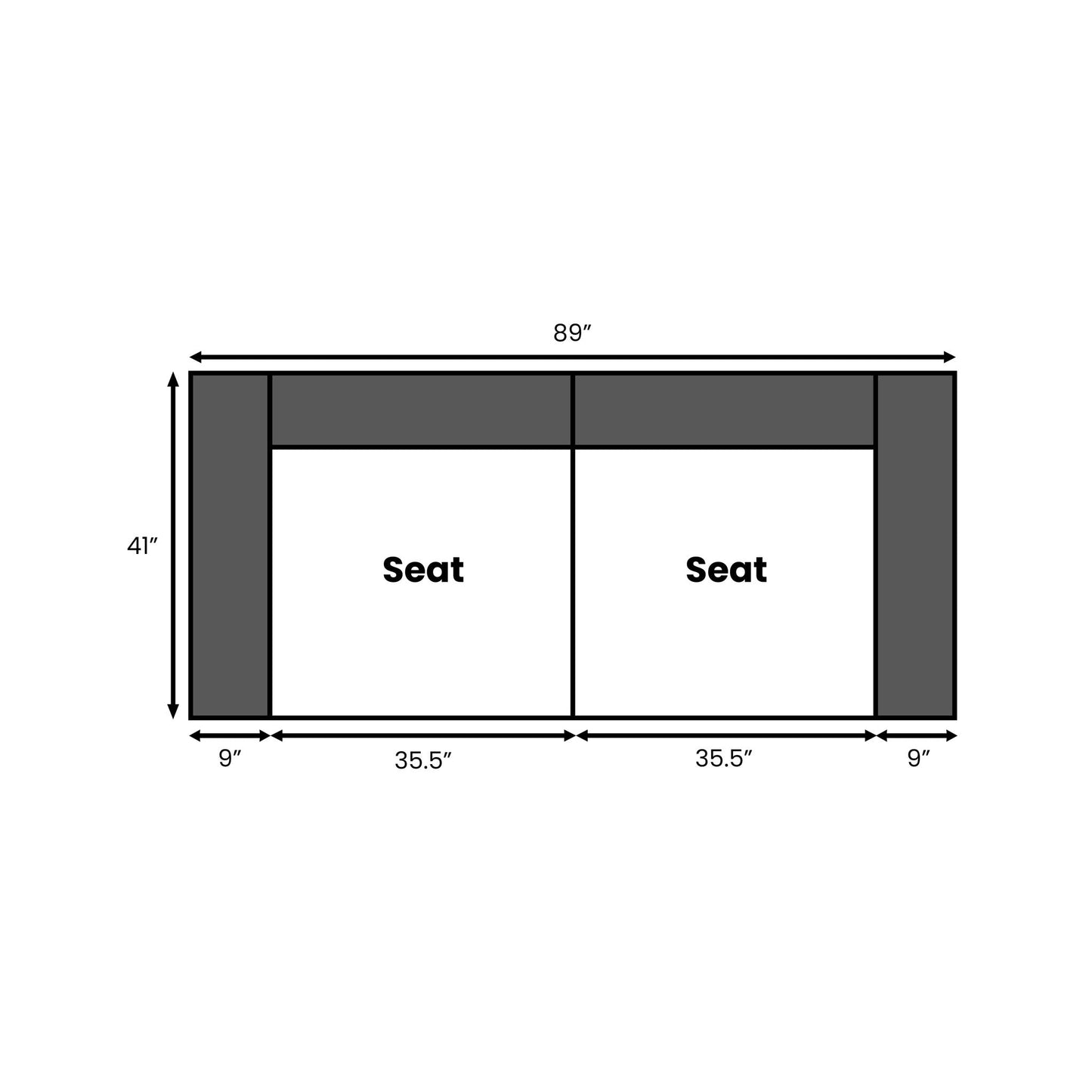 Do More, With Less
Get 5 pieces of furniture for the price of one sofa, saving over $2,000 and gaining over 20 extra square feet per living room.
Family Comfort
Dive into relaxation with the Rezy Sofa, designed with a lavish 5" triple-layer, high-density, high-resilience foam. Experience pure comfort that accommodates the entire family.
Spacious Living
136L Per Seat

Rezy Sofa provides generous storage, replacing bulky furniture. Each seat holds as much as an extra-large suitcase or around 20 stuffed animals—ideal for busy households.

50.5L Per Armrest

Innovative dual-compartment armrests declutter your space. The front section suits remotes and phones, while the deeper rear space accommodates books and toys effortlessly.
Versatile Tray Table
Effortlessly enjoy cozy laptop sessions for work or leisure in your living space.
Custom Cupholder
Keep your favorite beverage within arm's reach for ultimate relaxation.
Spill Resistant
Accidents happen, but worry not. Easily wipe away spills with our special fabric.
Scratch Resistant
No need to worry about pets or kids scratching it; our fabrics are built to last.
Rezy Difference
While traditional sofas remain static and bulky, the Rezy Sofa revolutionizes with innovative, space-efficient design. Plus, its upgradability lets you personalize your sofa over time, ensuring it gets better with time.
FAQ
What is the difference between Essential and Smart?

Essential Edition Features:

+ Modular Sectional Sofa

+ Tray Table

+ Seat Storage

+ Armrest Storage

+ Marble/Wood Cupholders

Smart Edition Features:

+ All Essential Edition Features

+ Charging

+ App-Controlled Ambient Lighting
Is the sofa durable?

The Rezy Sofa is built to last. From material selection to structural design, the sofa is built to be durable. We do not use cheaper composites such as MDFs and particle boards in our structure.

The sofa is also designed with reparability in mind, so if a part breaks, it can be fixed easily without replacing your sofa. For example, the table and cupholders can be individually removed and replaced if damaged.
How do I clean the sofa?

To keep your sofa looking fresh for years to come, please wipe away spills immediately with a damp cloth. Avoid using harsh cleaning chemicals on the sofa.

Vacuum the sofa regularly to keep dust from building up on the fabric.
How heavy is the sofa?

All our components are made with solid materials, which gives a sturdy and premium feel.

Each armrest weighs approximately 66lbs and each seat (with backrest) weighs approximately 85lbs.
What is the weight limit of the sofa?

We tested up to 400lbs per seat with no issues. Granted, this is not the max weight that the seat can handle before breaking.
Are your seats bigger than typical sectionals?

Our seats are on the wider end of the spectrum at 35.5" wide, but it isn't out of the ordinary. We found this to be the ideal width because a two-seater would fit perfectly in an small apartment and offer the flexibility of seating up to four people.
How do all the sofa modules connect?

All the modules, except the ottoman, have heavy-duty metal connectors that hook all the pieces securely together.

You will not need any tools to put the sofa together.
Tell me more about future add-ons.

Our development pipeline falls into two categories: modules and add-ons. These are all backwards compatible, meaning you will be able to add them to the current Rezy Sofa.

Modules are large pieces such as seats, armrests, and backrests. An example of a module that we are working on is a sofa bed.

Add-ons are smaller items that you put into your Rezy Sofa to enhance its functionalities.
Can I try out the sofa in person?

We believe the best way to try our sofa is to live with it. Our 30-Day Free Trial allows you to experience the sofa in a more intimate setting, and if you feel like it isn't right for you, we will happily take it back at no cost.
A Two-Seater Essential That's Truly Essential!
My wife and I just got the Two-Seater Essential from RezyDesign, and let me tell you, it's a game-changer! This thing has quickly become our go-to chill spot in the house. It's super comfy and stylish, and it just fits right into our living space.
The comfort of this two-seater is off the charts. Imagine sinking into a cloud after a long day - that's what it feels like. The design is sleek and modern, and you can tell a lot of thought has gone into making this piece.
But what really blew us away is its spill and stain resistance. We had a bit of a mishap when our friends' kids dropped strawberry ice cream and watermelon fruits on it. But guess what? The stains wiped right off! It's not just a marketing gimmick, this thing really is stain-resistant. We've seen it in action!
And if you've got a pet, you're going to love the scratch-resistant feature. Our cat, who loves to use our furniture as her personal scratching post, hasn't been able to leave a mark on this two-seater. The fabric is as good as new, even with her constant attempts.
We're so happy with this two-seater that we're already planning on getting the matching ottoman next. And hey, RezyDesign, if you're thinking about making dining chairs and bar stools, count us in!
So, here's the deal. The Two-Seater Essential from RezyDesign is a solid buy. It's comfy, it's durable, and it's got style. It's a piece of furniture that really lives up to its promises. If you're looking for something that's high-quality, stylish, and functional, we can't recommend it enough.
Corner sectional
I am in LOVE with this couch!! Not only is it BEAUTIFUL, the extra storage space that you have under each seat and in the arm rests is so functional! Everything about this couch feels so high quality, from the fabric of the couch to the marbled coasters.
Would absolutely recommend and the customer service is fantastic too! They're very responsive and can even customize some pieces as well!
If you're considering the Rezy Sofa, don't hesitate! It's everything I hoped for and more.
The sofa is a big space saver for our condo.
I was a little skeptical about buying a sofa with storage, but it has been a fantastic addition to my home. The comfortable cushions and durable fabric make it a great place to relax.