Two-Seater 1.0 Clearance
Regular price
$2,229.00 CAD
Regular price
$3,455.00 CAD
Sale price
$2,229.00 CAD
Unit price
per
Sale
Sold out
Shipping Time: 3-5 Business Days
Features

Seats up to 4 people
Modular design that can grow with your family
Kids & Pets Friendly, spill and scratch-resistant fabric
373L of storage equivalent to 1.5 six-drawer dressers
2 Handcrafted cupholders (natural wood and marble patterns may vary)
2 Throw pillows included per seat
Stowaway tray table in each armrest
Compatible with future add-ons

Smart Edition Also Includes:

App-controlled ambient lighting 
Charging outlets (right armrest)
Size

Sofa Dimension: 89" x 41"
Seat Height: 18"
Seat Width: 35.5"
Seat Depth (Two Pillows): 21.5"
Seat Depth (One Pillow): 25.5"
Armrest Storage (Per Arm): 50.5L
Armrest Storage Front (Per Arm): 10.75" x 7.25" x 8.5"
Armrest Storage Rear (Per Arm): 21.25" x 7.25" x 15.5"
Seat Storage (Per Seat): 136L
Seat Storage (Per Seat): 32.25" x 28.75" x 9"
Large Throw Pillow: 35.5" x 6.5" x 15.75"
Small Throw Pillow: 22" x 4" x 13"
Tested Weight Limit: 400 Lbs Per Seat
Materials

Solid wood frame
Engineered plywood armrest frame
Sinuous springs and webbing suspension
5" Thick multilayer high resiliency foam
Stain-resistant fabric
Natural wood and marble cupholders
Solid wood tray table
Solid wood sofa legs
Shipping & Return

Shipping

We only ship to Canadian addresses, and shipping is free.

30-Day Free Trial

You can return your product for any reason, FREE of charge. You have up to 30 days to return the product from the delivery date.

Please see our Shipping & Return Policy for details.
Warranty & Care

Warranty

We offer a two year warranty which covers manufacturing-related structural defects, electronic defects, and fabric defects.

Care

Entire sofa has anti-stain treatment, spills can be cleaned up by rubbing a damp cloth gently on the spilled section.

 
Share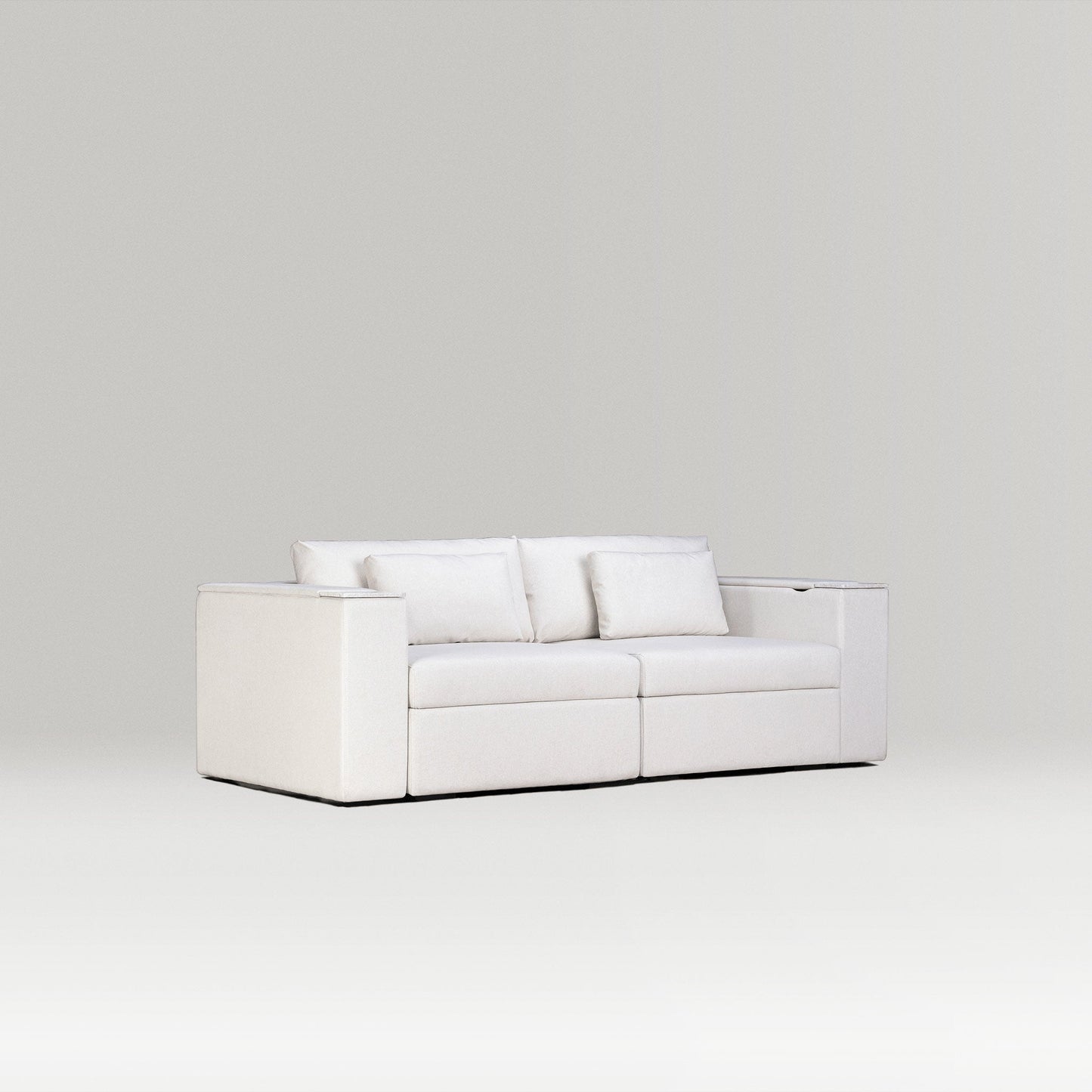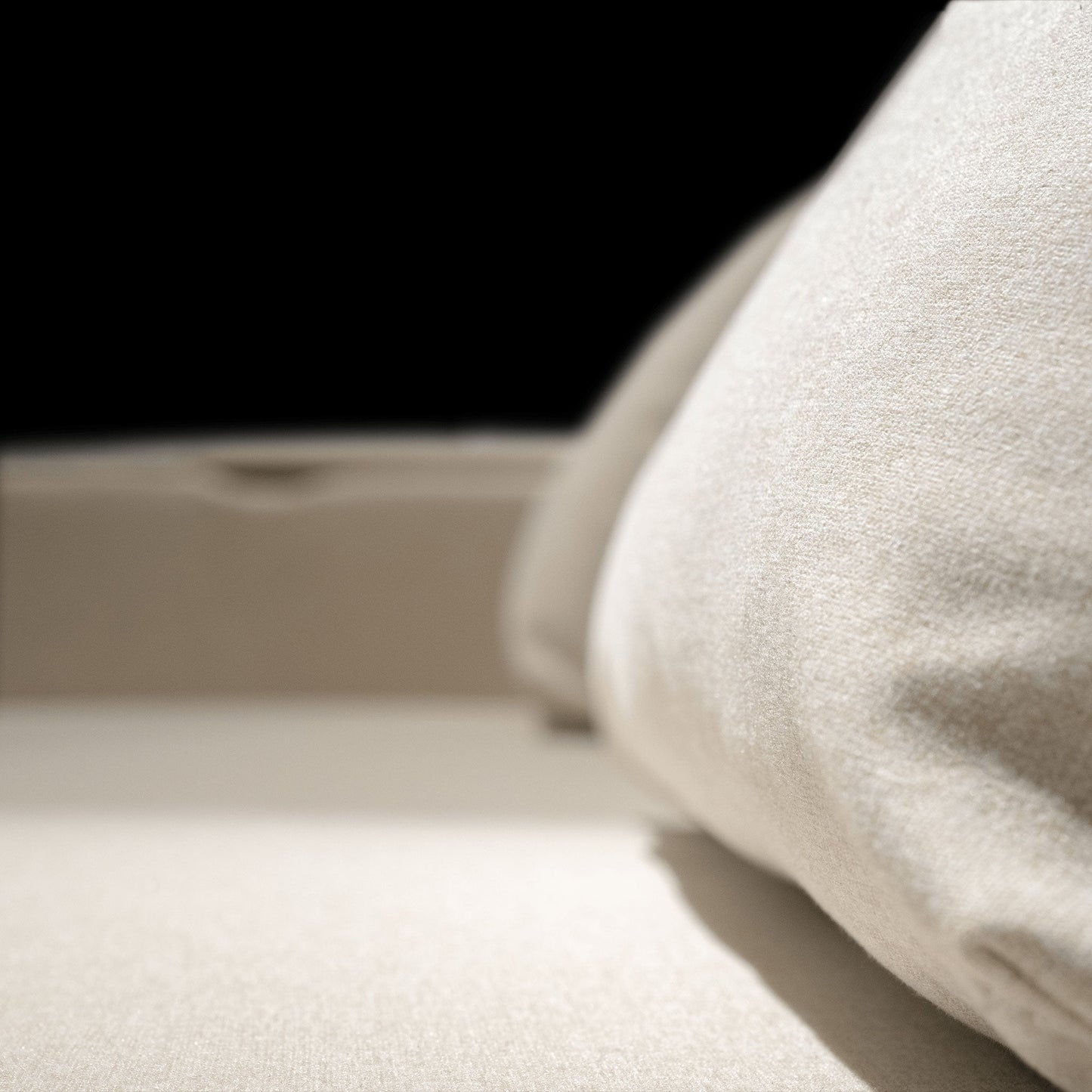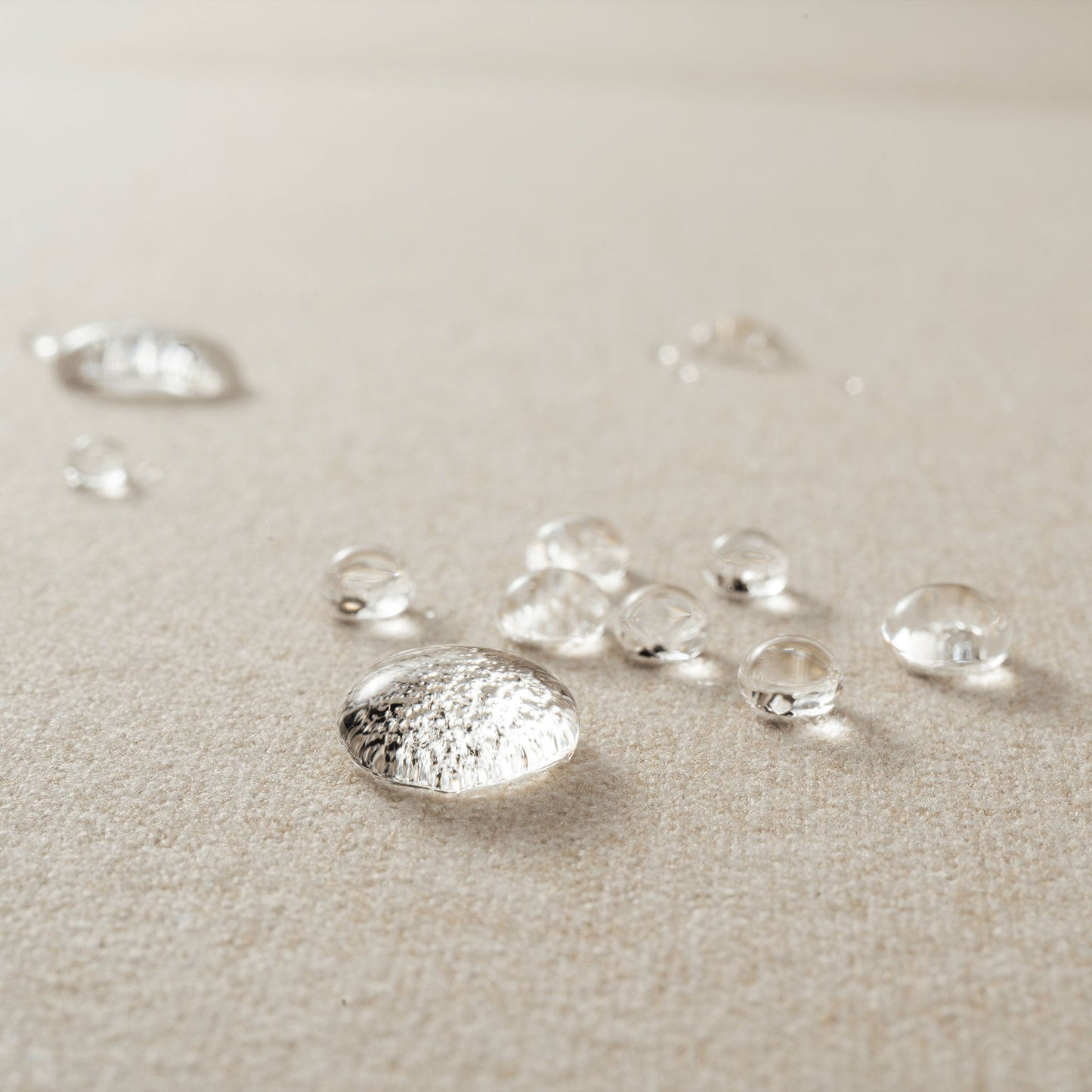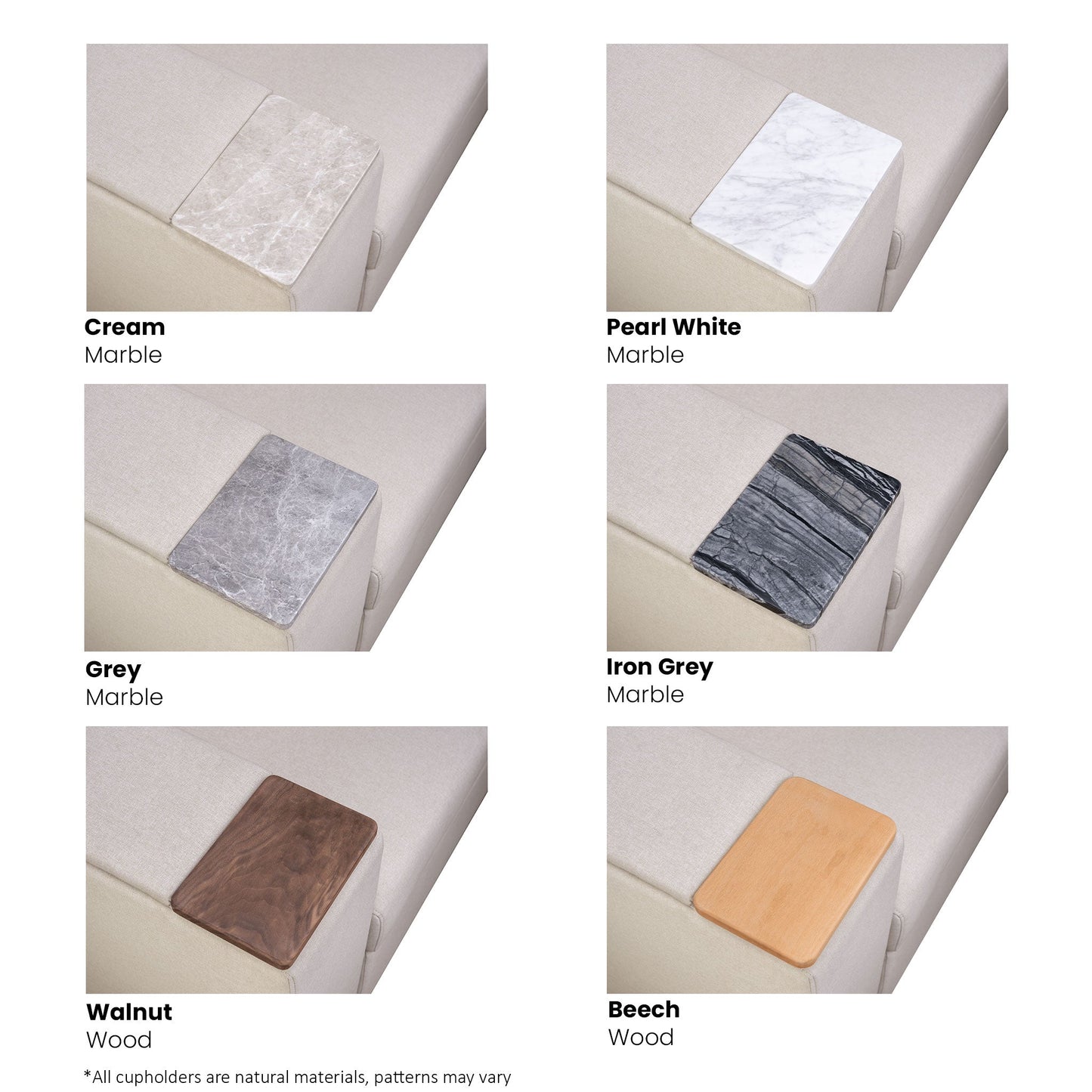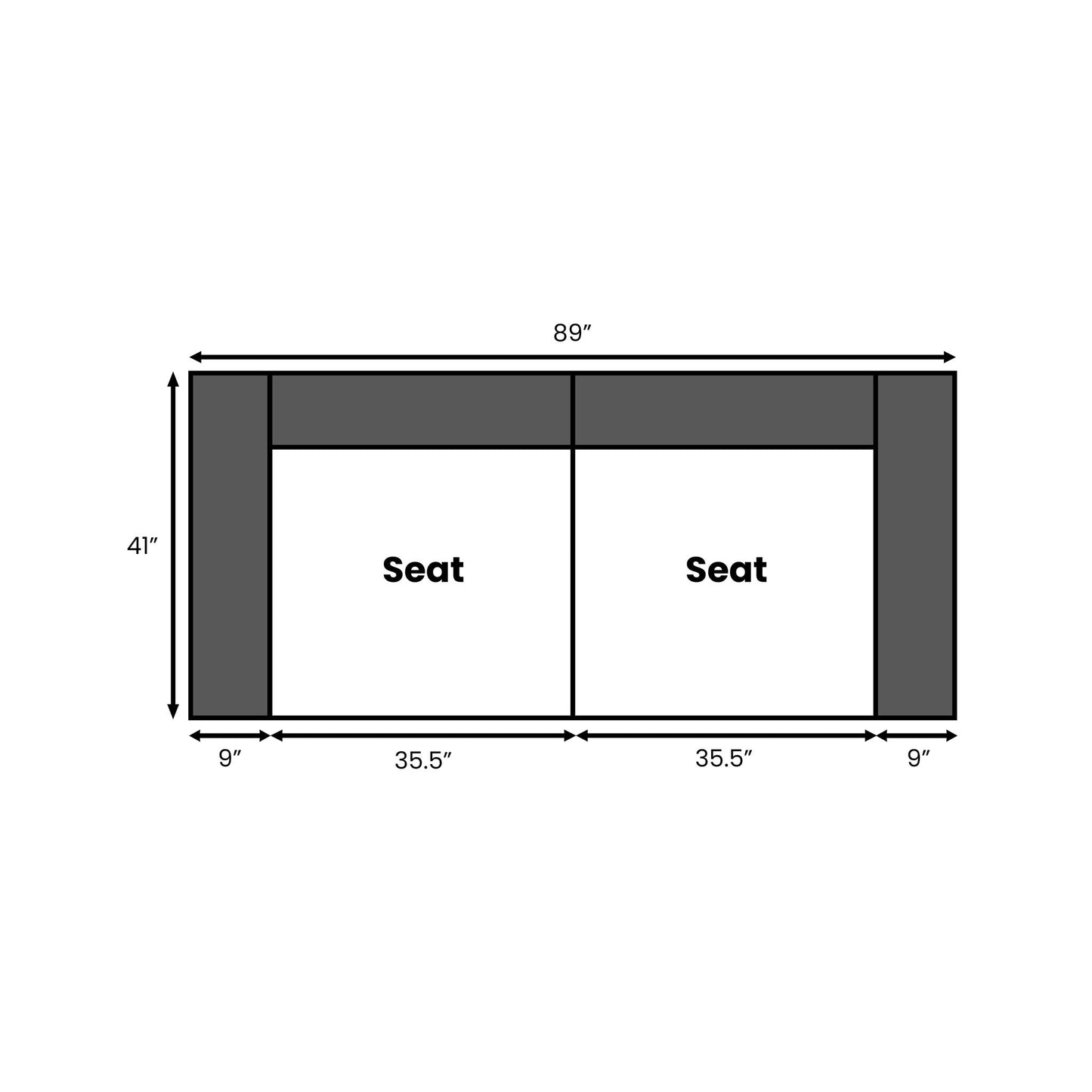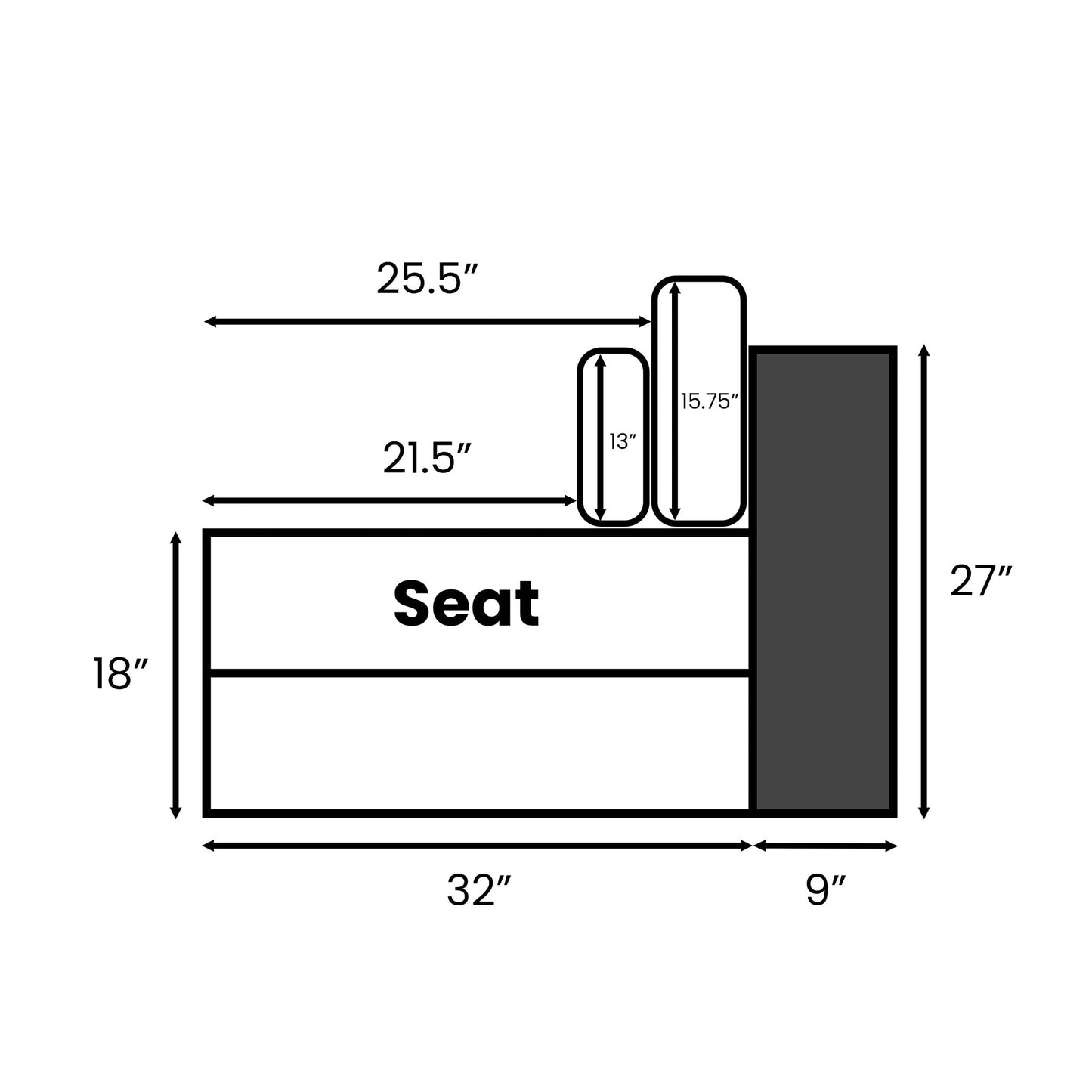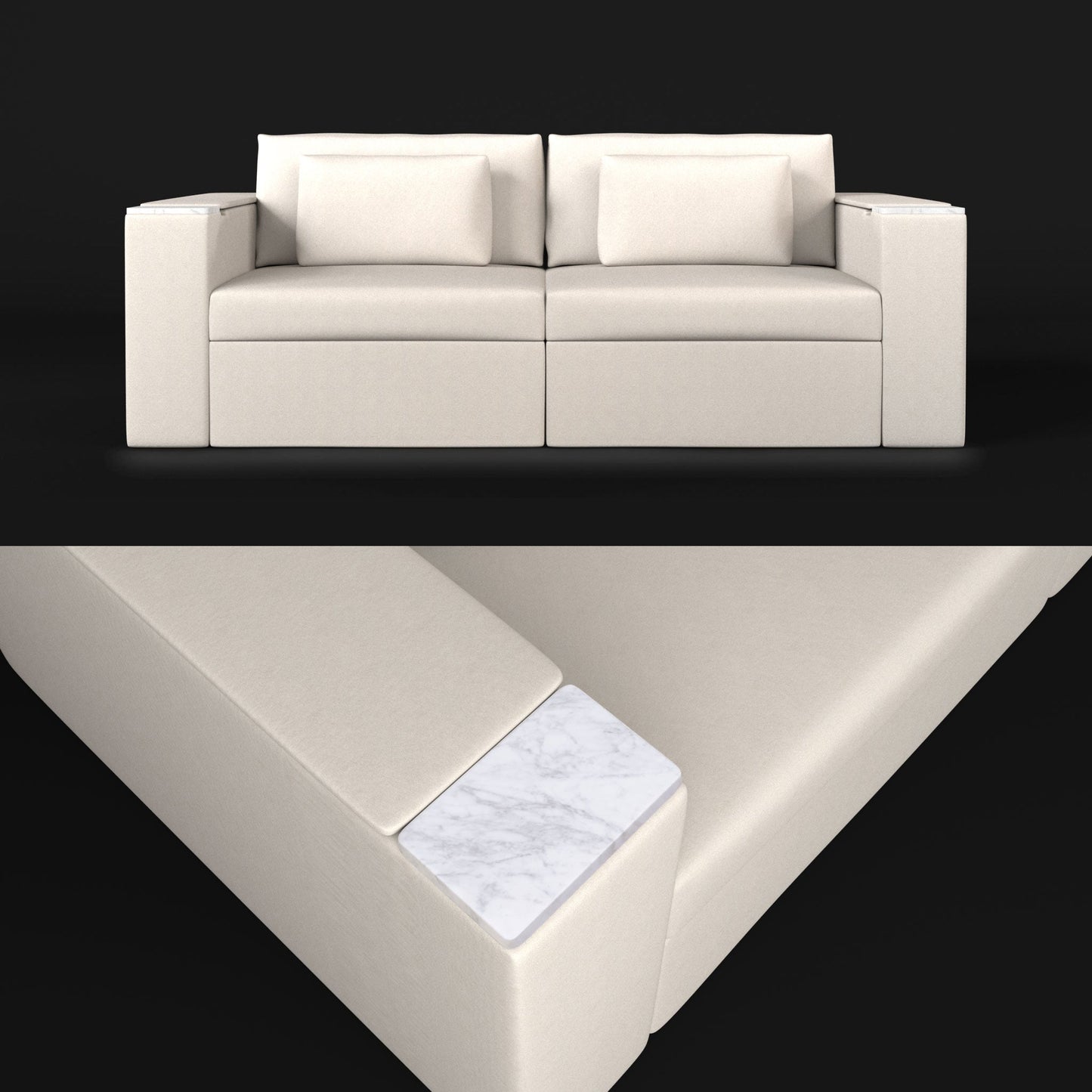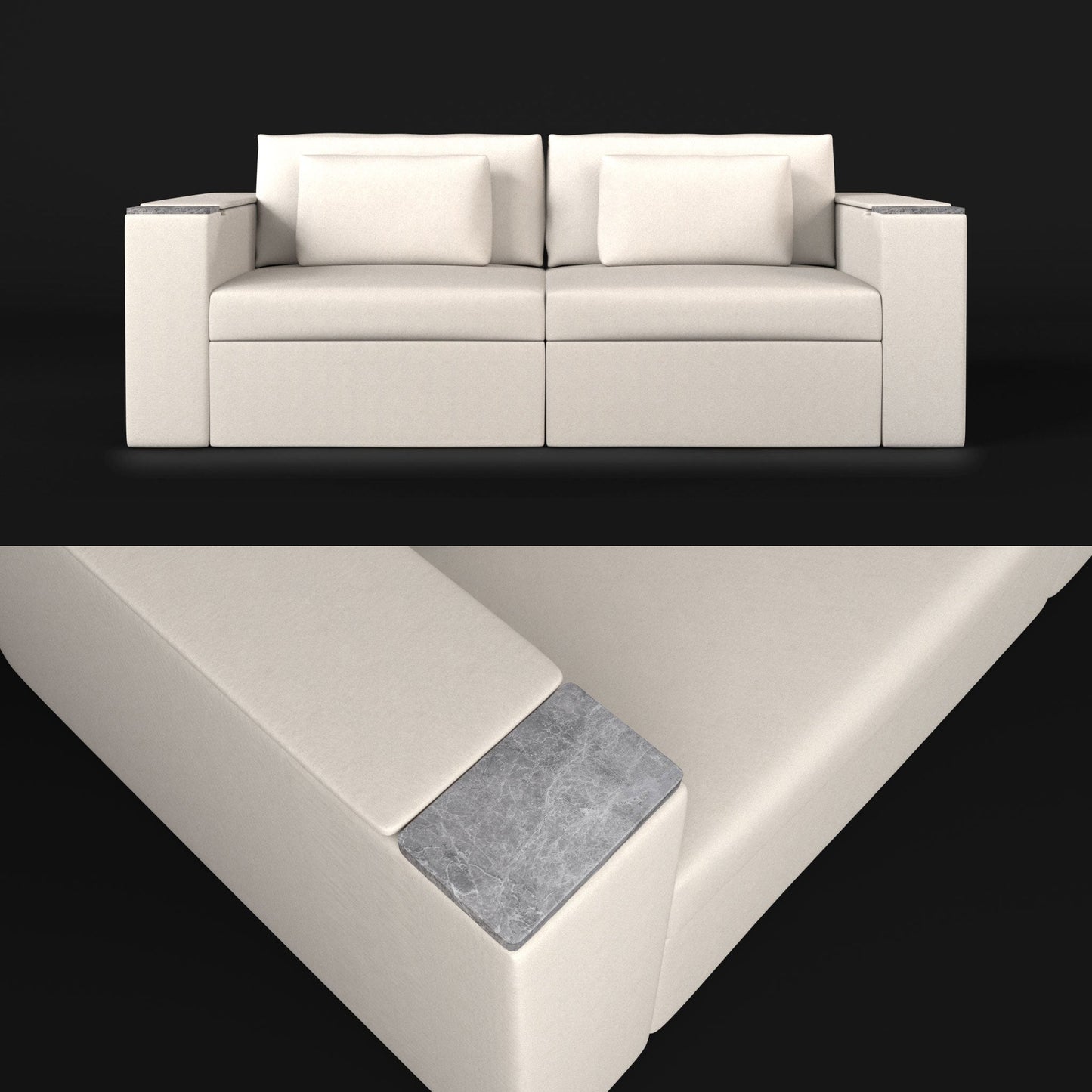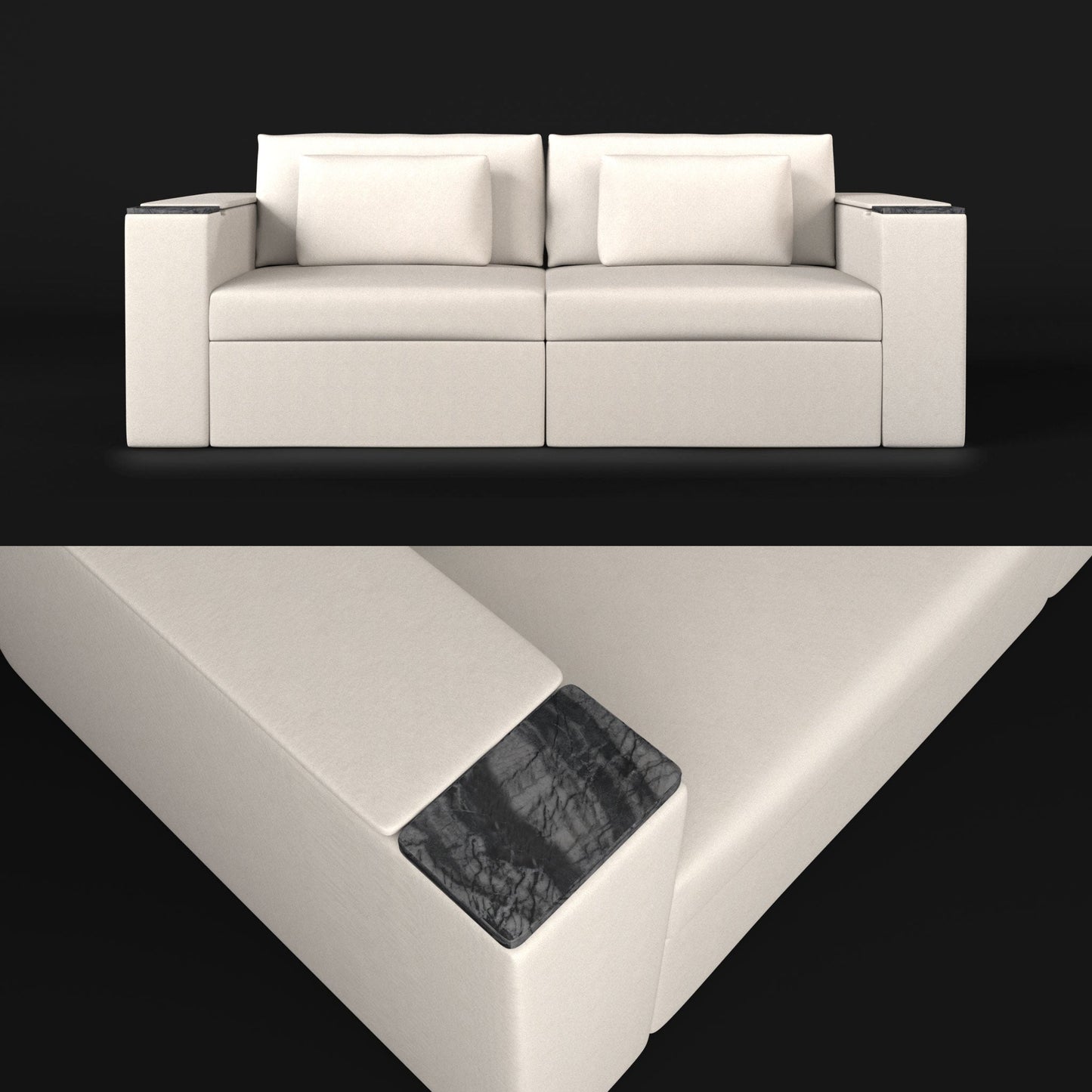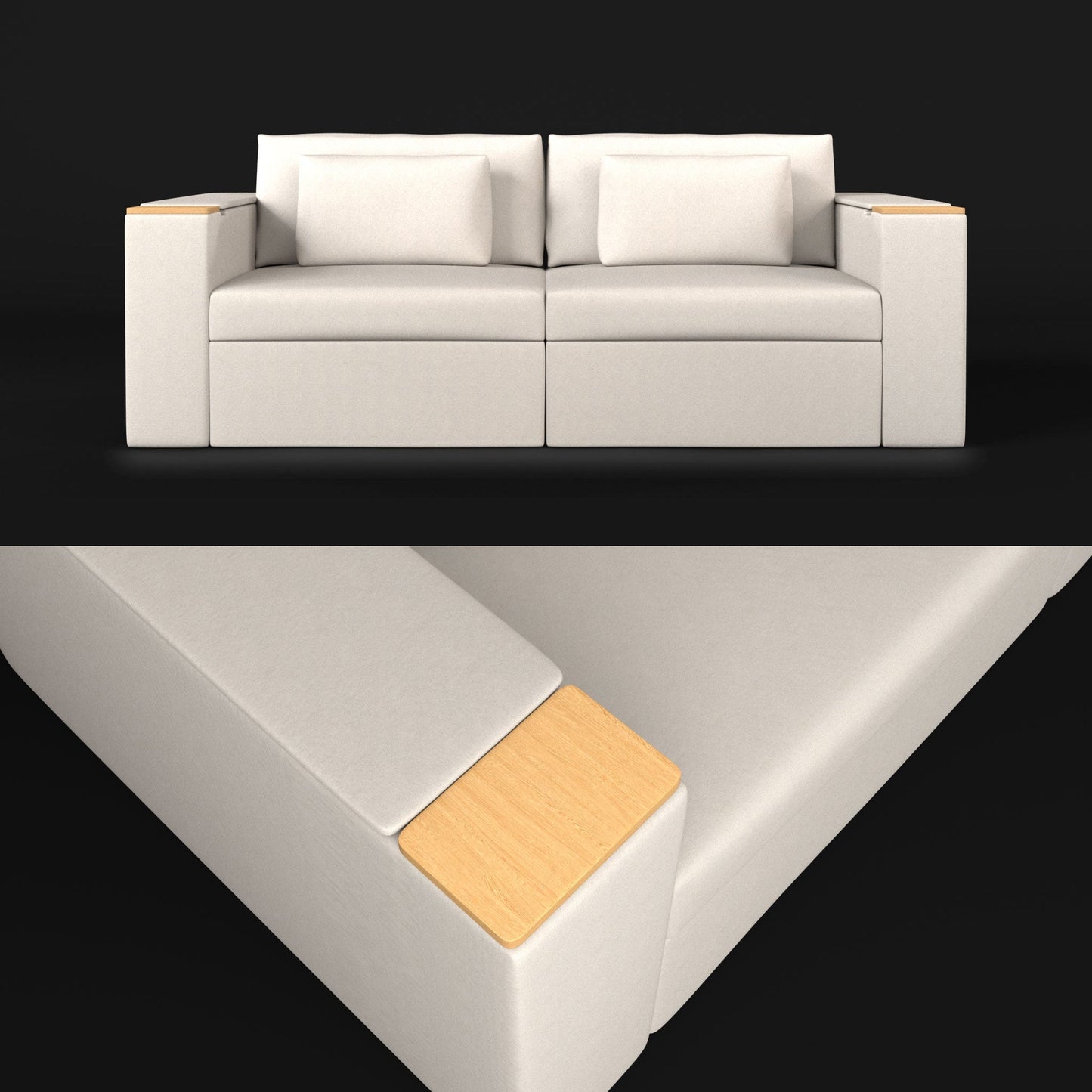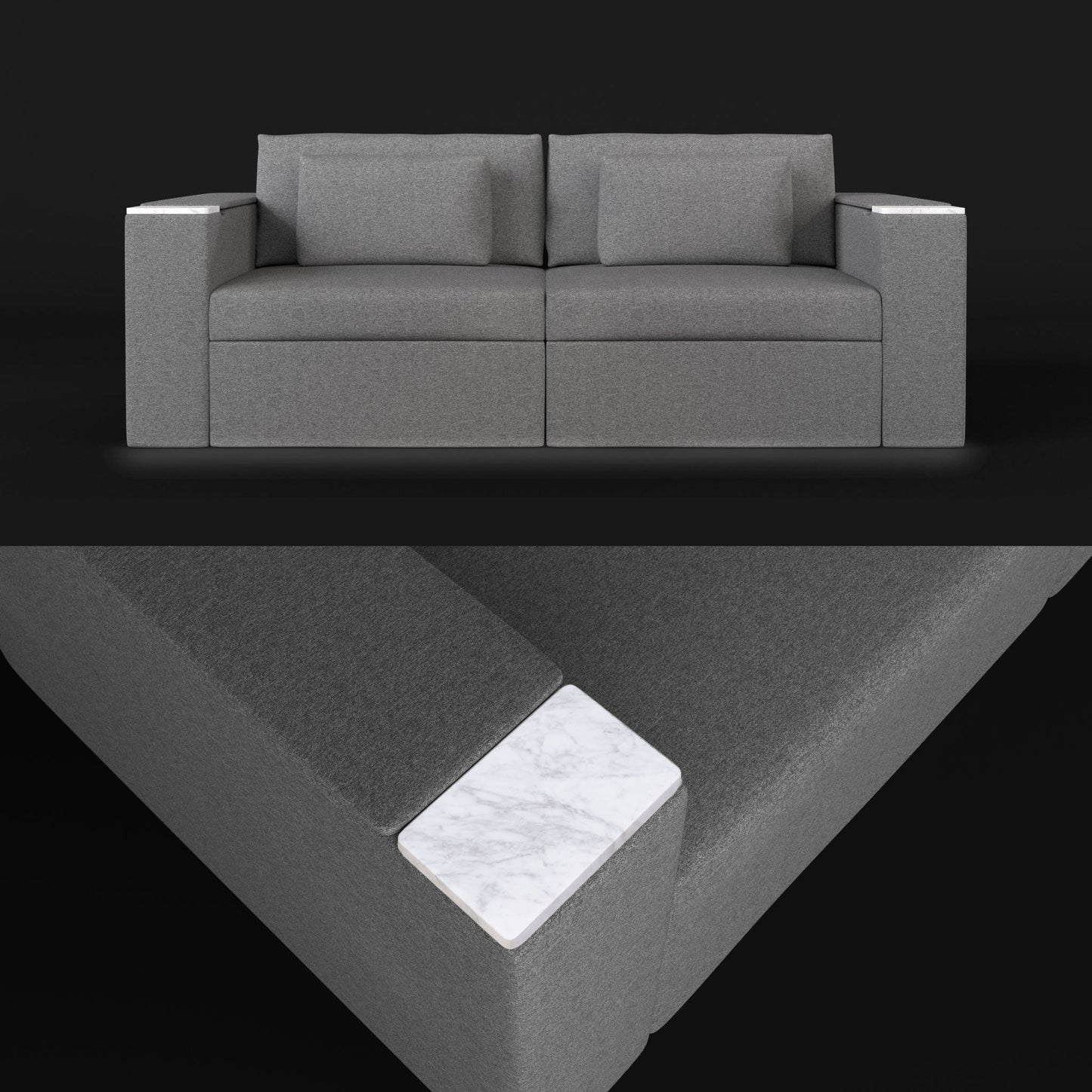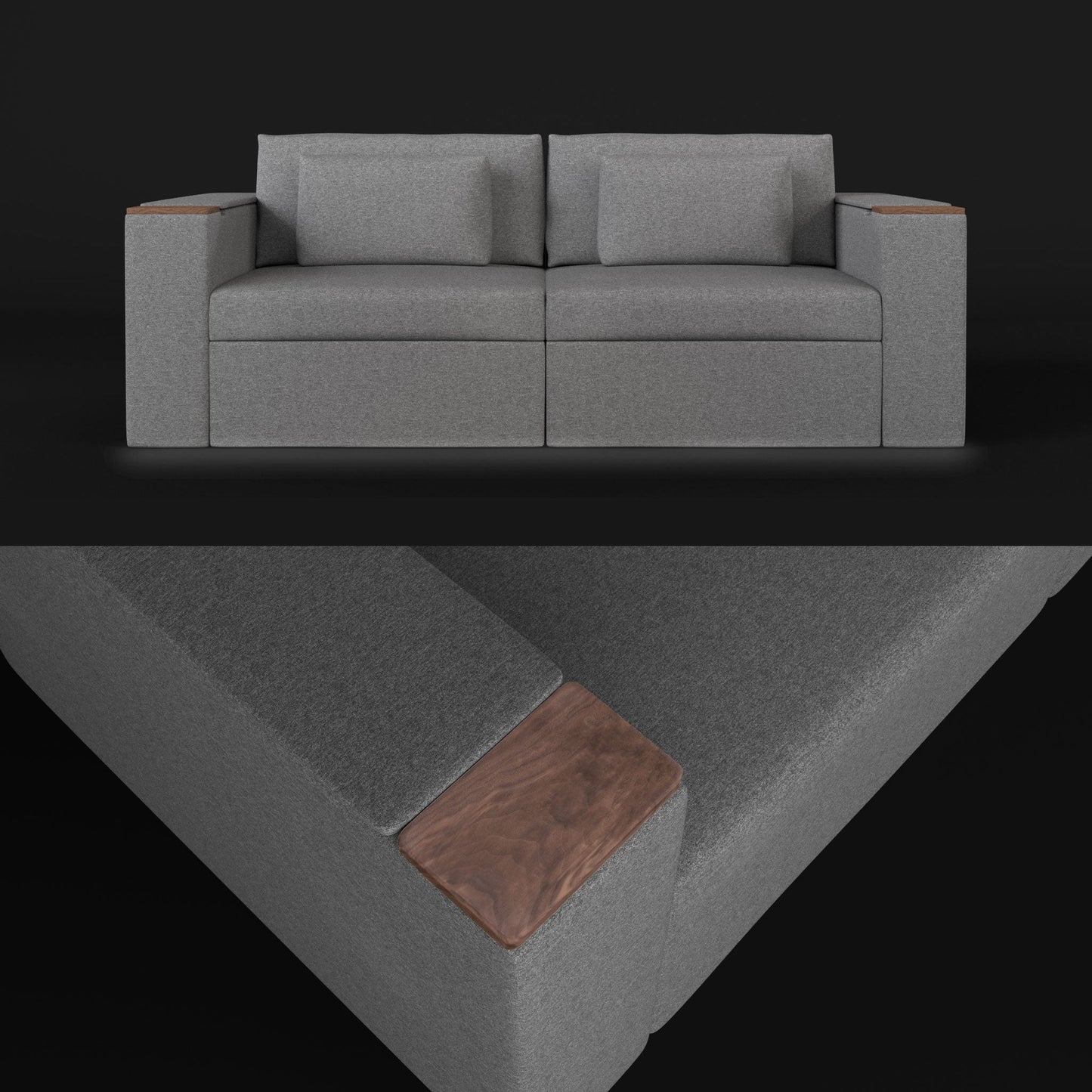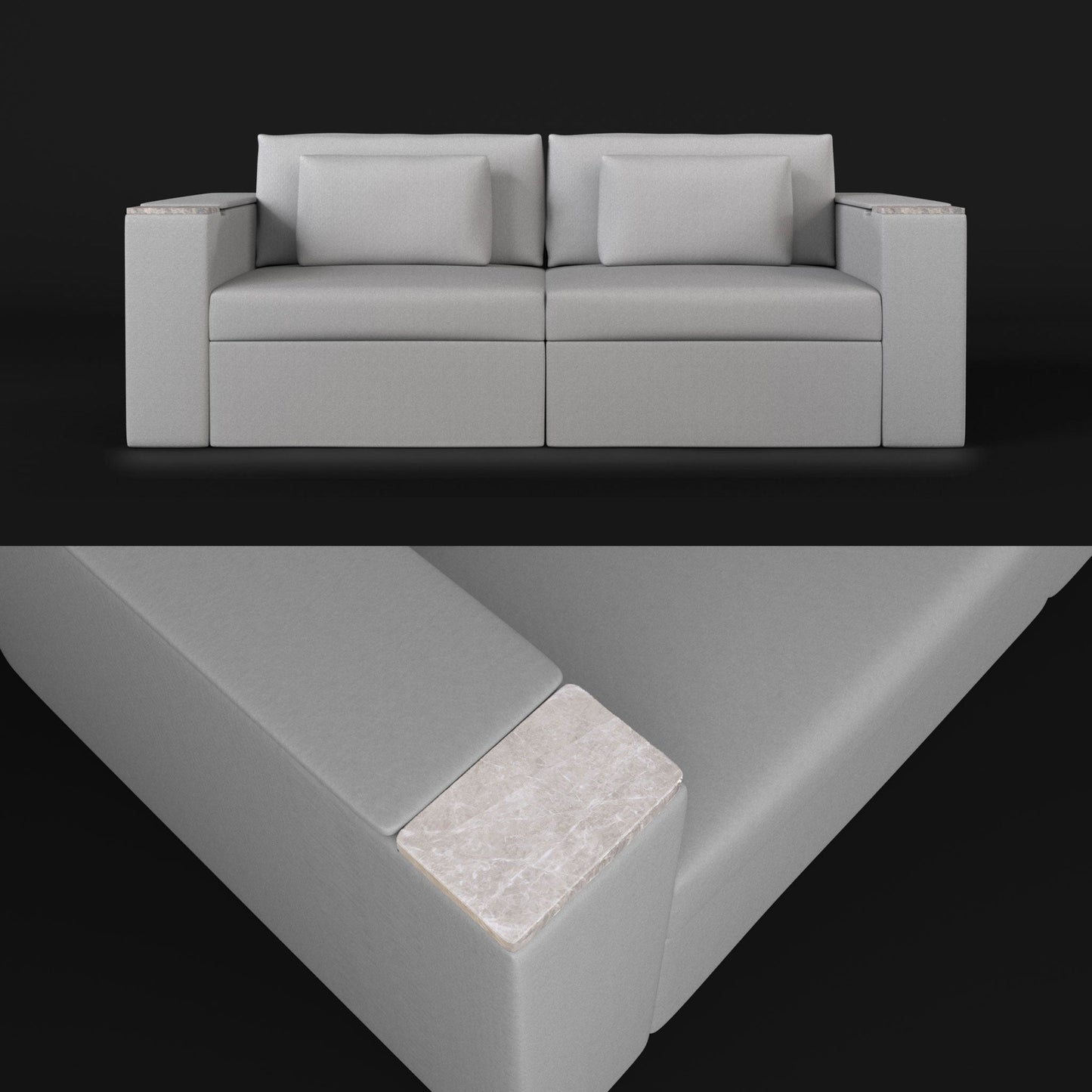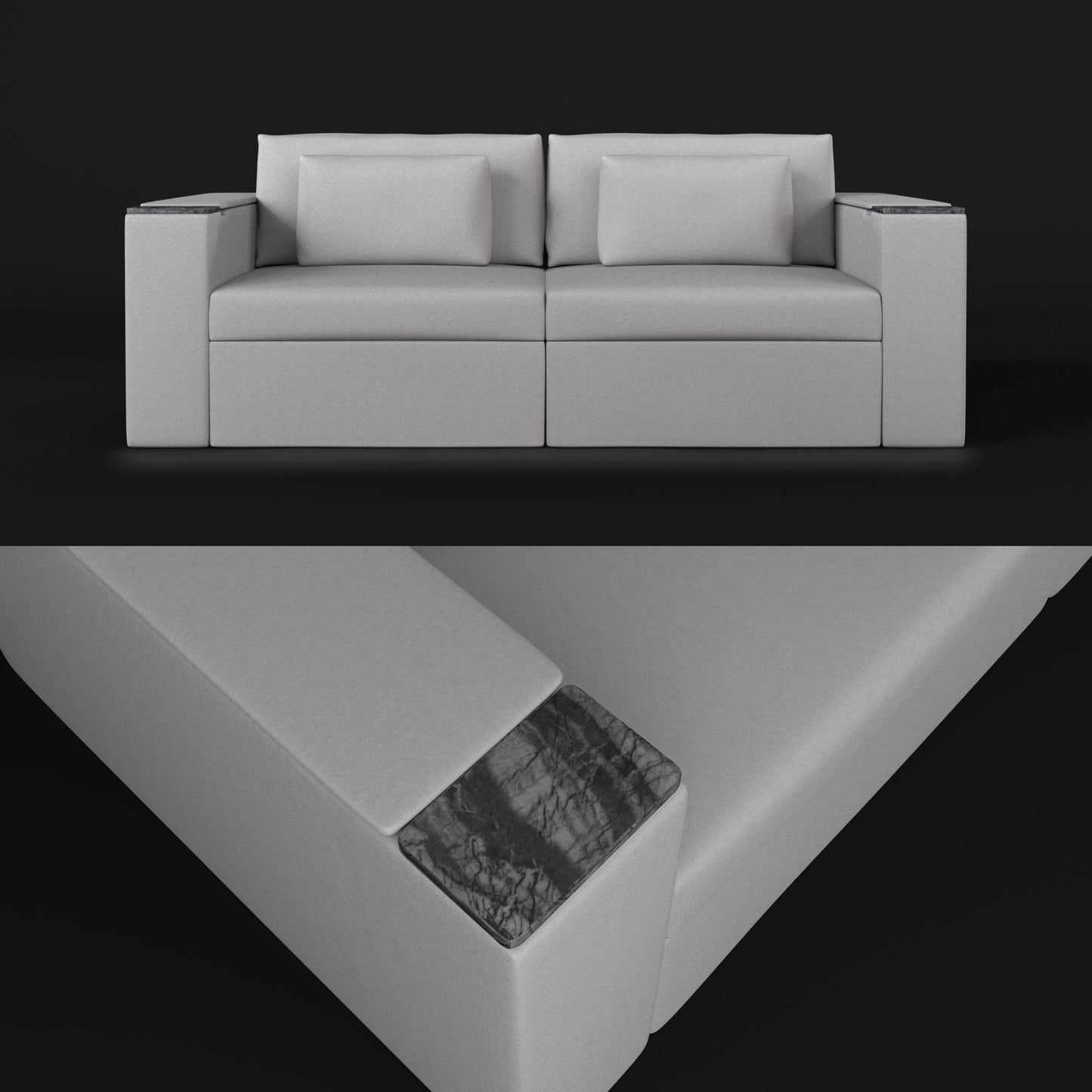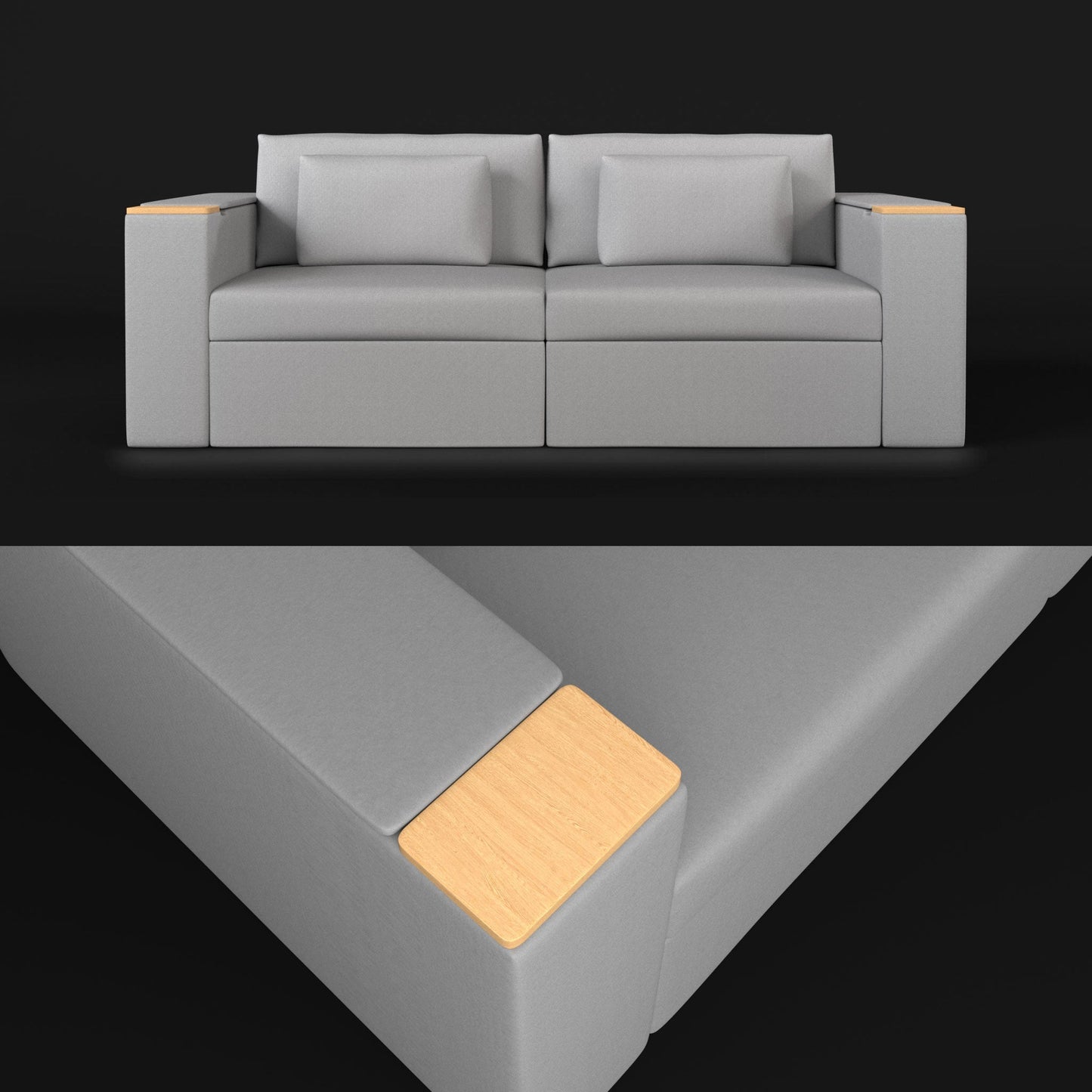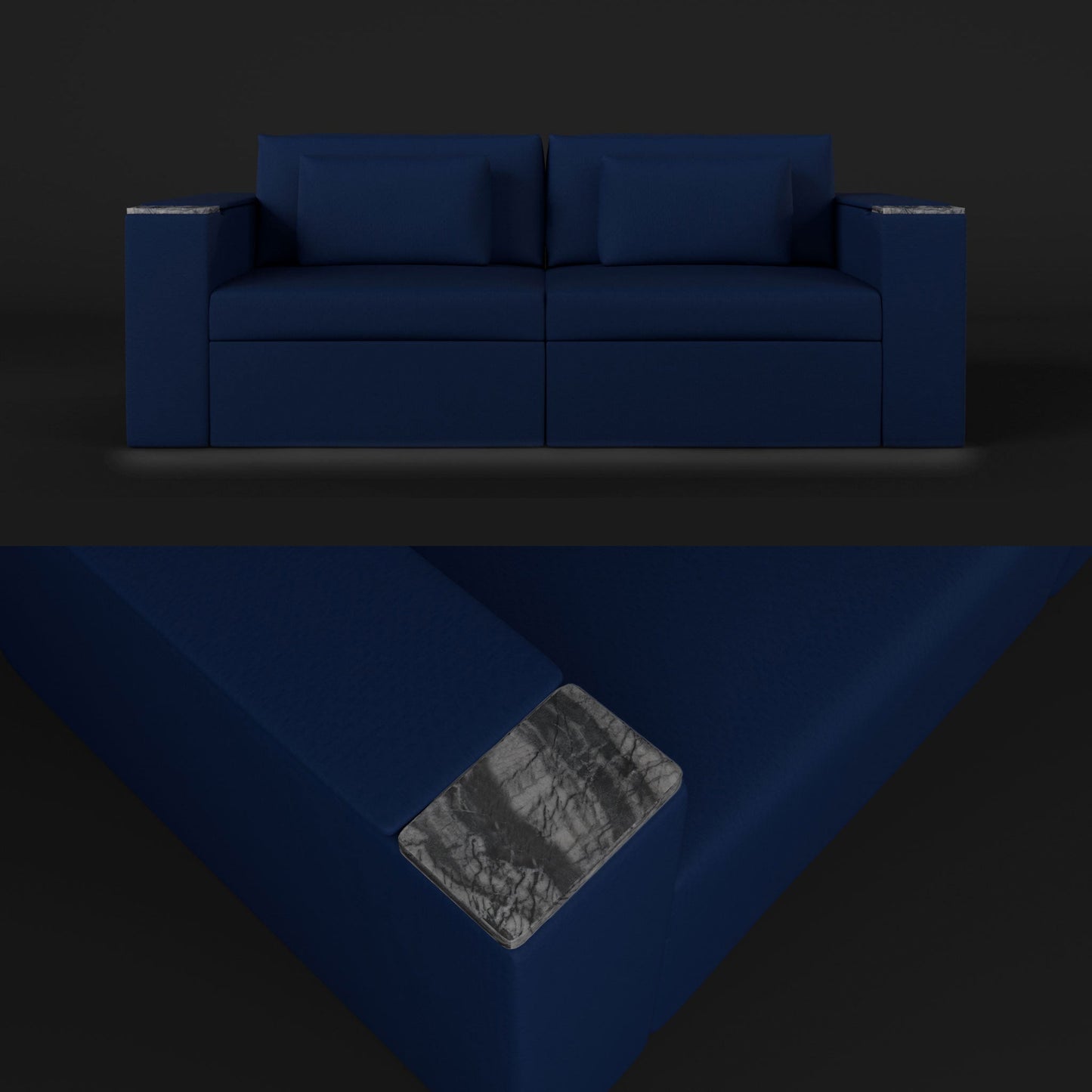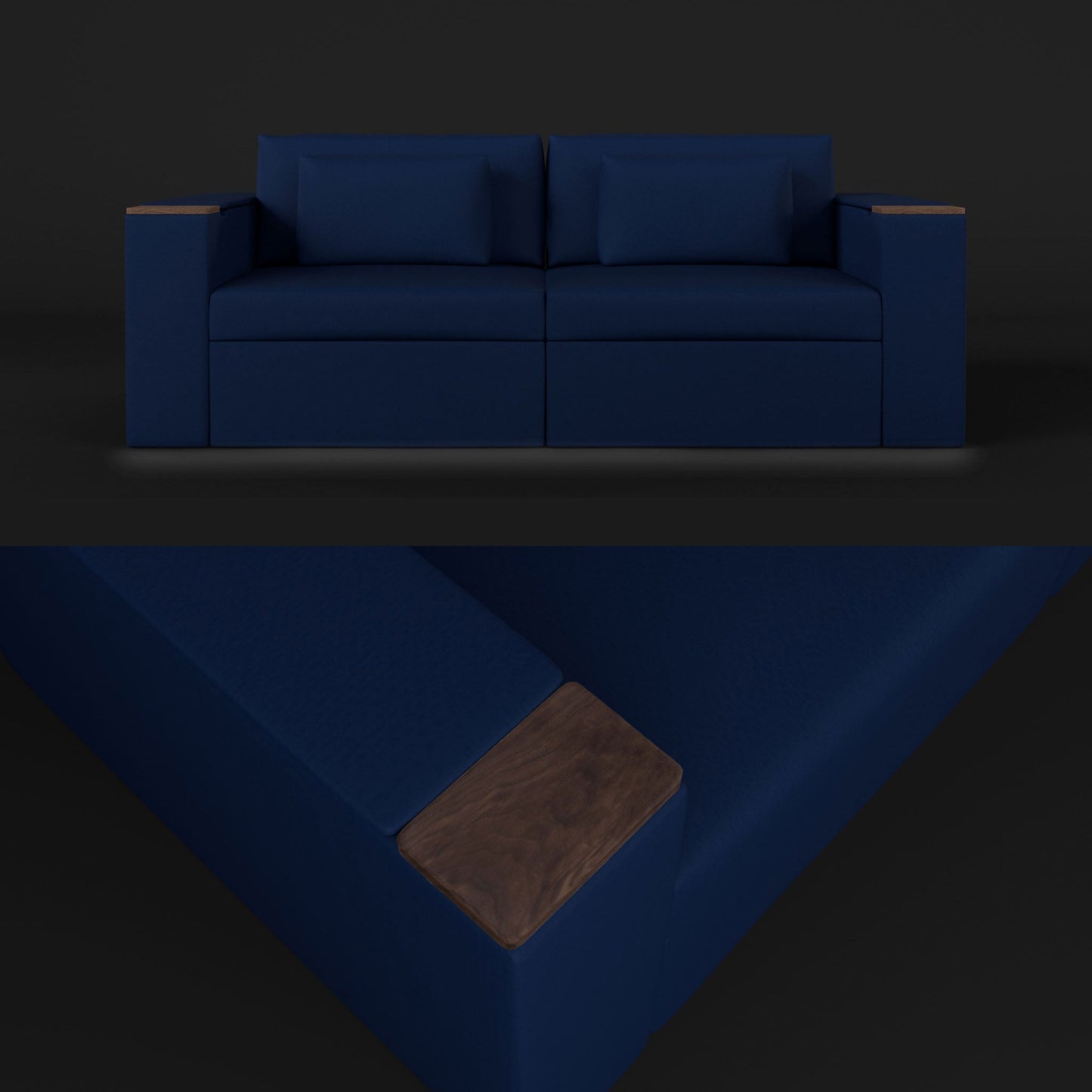 About Clearance Items
Please Note: All clearance sales do not have free returns, customer will need to arrange their own shipping for returns, if the sofas are returned in original packaging and does not have any damages, the full refund will be processed (returns only eligible within 30 days of delivery). All products have 10-Year Limited Warranty.
Family Comfort
Enjoy lasting relaxation with our 5" triple-layer, high-density, high-resilience foam, expertly balancing softness and support.
Use the included smaller back cushion for lower back support, ensuring a comfortable experience for the whole family.
Spacious Living
136L Per Seat

Our sofa configurations offer ample storage capacity, replacing bulky furniture and freeing up precious space in your home.

 

Each seat holds as much as an extra large suitcase or approximately 20 stuffed animals, perfect for busy households.

50.5L Per Armrest (With Charging)

Innovative dual compartment storage in each armrest helps you efficiently de-clutter your living area.

 

Keep your devices charged and ready with the convenience of built-in charging outlets.
Versatile Tray Table
Effortlessly swivel out the tray table for a convenient and cozy laptop session, perfect for work or leisure in your living space.
Custom Cupholder
Unwind with ease as your favorite beverage stays within arm's reach.
Lighting
Smart Control

Experience ultimate control with our smart lighting system. Use the app to choose and customize the colors to suit your mood, creating the perfect ambiance in your living space.
Spill Resistant
Accidents happen, but no need to worry. Wipe away spills easily with our special fabric.
Scratch Resistant
Our fabrics are durable so you don't have to worry about pets or kids scratching it up.
Rezy Difference
Traditional Sofas

Conventional sofa designs have seen little innovation, remaining largely unchanged in both form and function.

 

Often big, bulky, and lacking in practical features, these sofas lack the adaptability and enhancements that set the Rezy Sofa apart from the competition.

Rezy Sofa

The Rezy Sofa is revolutionary, offering unprecedented customization and innovation in sofa design. It efficiently utilizes idle space, transforming a traditional sofa into a functional masterpiece.

 

Plus, its upgradability allows you to personalize your sofa over time, ensuring it gets better with each passing day.
FAQ
Is the sofa durable?

The Rezy Sofa is built to last. From material selection to structural design, the sofa is built to be durable. We do not use cheaper composites such as MDFs and particle boards in our structure.

The sofa is also designed with reparability in mind, so if a part breaks, it can be fixed easily without replacing your sofa. For example, the table and cupholders can be individually removed and replaced if damaged.
How do I clean the sofa?

To keep your sofa looking fresh for years to come, please wipe away spills immediately with a damp cloth. Avoid using harsh cleaning chemicals on the sofa.

Vacuum the sofa regularly to keep dust from building up on the fabric.
How heavy is the sofa?

All our components are made with solid materials, which gives a sturdy and premium feel.

Each armrest weighs approximately 66lbs and each seat (with backrest) weighs approximately 85lbs.
What is the weight limit of the sofa?

We tested up to 400lbs per seat with no issues. Granted, this is not the max weight that the seat can handle before breaking.
Are your seats bigger than typical sectionals?

Our seats are on the wider end of the spectrum at 35.5" wide, but it isn't out of the ordinary. We found this to be the ideal width because a two-seater would fit perfectly in an small apartment and offer the flexibility of seating up to four people.
How do all the sofa modules connect?

All the modules, except the ottoman, have heavy-duty metal connectors that hook all the pieces securely together.

You will not need any tools to put the sofa together.
Tell me more about future add-ons.

Our development pipeline falls into two categories: modules and add-ons. These are all backwards compatible, meaning you will be able to add them to the current Rezy Sofa.

Modules are large pieces such as seats, armrests, and backrests. An example of a module that we are working on is a sofa bed.

Add-ons are smaller items that you put into your Rezy Sofa to enhance its functionalities.
Can I try out the sofa in person?

We believe the best way to try our sofa is to live with it. Our 30-Day Free Trial allows you to experience the sofa in a more intimate setting, and if you feel like it isn't right for you, we will happily take it back at no cost.
Best couch!
After researching different companies and comparing prices, Rezy hands down was worth every dollar. Quality material and top notch customer service. Thanks Rezy Team!
OMG. This is the one! Glad I found this sofa. So much storage! It's also super comfortable. I finally have a place for my extra pots. Two pots and a king-size throw blanket with still LOTS of room to spare.
The Rezy Sofa exceeded my expectations. It's modern, functional, and very comfortable. The grey velvet looks and feels very plush. Love the white marble, it really makes the piece pop.
I absolutely love this couch! There are so many cool features and it is SO spacious. My family of 4 sit comfortably on it. Also - the cream fabric is BEAUTIFUL!!
Great couch. Growing pains for company.
The couch is awesome. It's as big as the 3 seat reclinerwe had and we only got 2 seats.
I would love if both arms had an outlet even if I had to connect an extension cord. Also, the app for the lighting is lacking a lot of capability. I'd like to schedule turning on/off but for some reason I can't even get it to connect anymore.
The delivery process was painful and I think I'm missing a cushion, but the company has been great working through those issues. I will still recommend them, just be prepared to do some follow up.